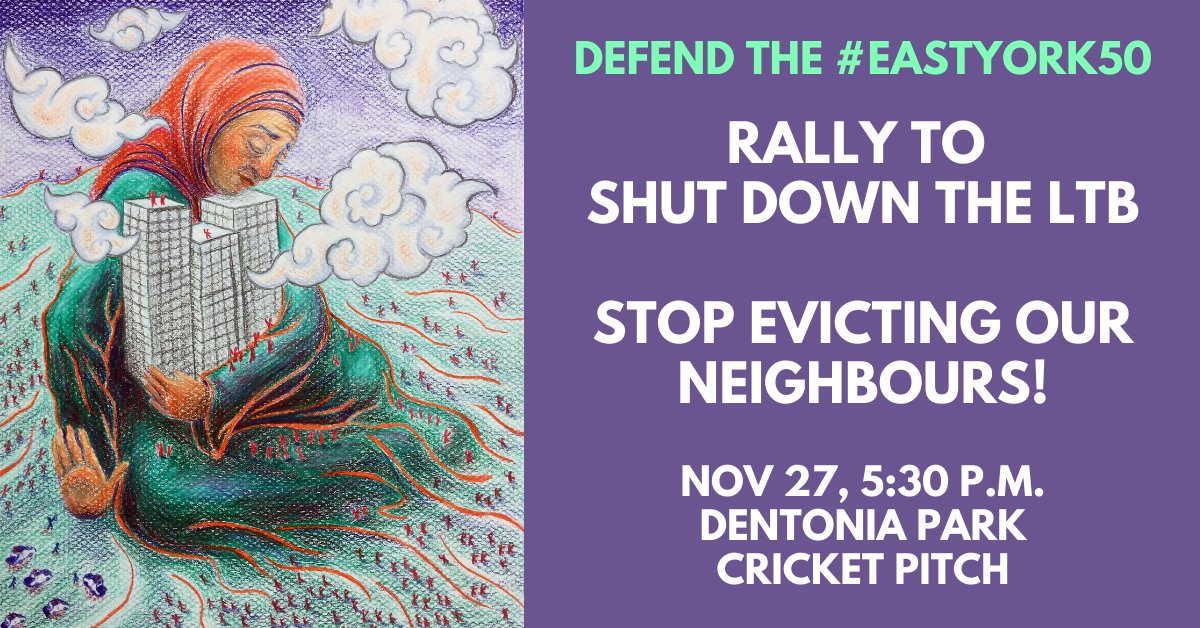 As we enter a winter lockdown, 50+ hardworking tenants from Crescent Town and Goodwood Park are being dragged to eviction court *this week alone* by multi-millionaire landlords.
They face homelessness and crushing debt. They are being punished for losing income during the pandemic, and targeted for joining tenant unions in their buildings.
With a new fast-tracked eviction process, in Toronto alone the Landlord and Tenant Board has held over 1,300 eviction hearings in the first 3 weeks of November, with several thousand more to follow.
The LTB is stacked with anti-tenant "judges", including former cops, landlords, property managers, and even a paralegal with Cohen Highley -- the notorious law firm representing the biggest landlords in the city!
The tenants facing eviction have banded together as the "East York 50" and are fighting back collectively both in court and in the streets.
Join them, their neighbours and their supporters tomorrow as we rally to demand the Landlord and Tenant Board be shut down, and immediately stop processing COVID-19 eviction and arrears hearings.
Pinedale Properties, Ranee Management and other corporate landlords must negotiate with their struggling tenants directly, and provide rent relief to those in need.
No COVID-19 evictions! No Eviction-Clause Repayment Plans! Tenants Will Not Pay for this Crisis!