There was a recent post by DOSE in the Tenant Forum who asked a great question:
So "No Smoking" Doesn't Mean I Can't Grow Plants Legally?

Every landlord is nuts about no smoking these days every where I go. So if I can now smoke in public and sign this deal with the devil that means I can't smoke inside my rental right? But what about growing plants? Seems like two totally different things but I know the landlords here are tricky.
Yes, a great question and one the government paid for tenant activists are AFRAID TO ANSWER BECAUSE THEY DON'T WANT TO ROCK THE BOAT AND TELL THE TRUTH TO TRULY HELP TENANTS (or risk losing their funding?)
Landlords are bragging they are putting have leases that are 'no smoking'. They are laughing at you and every other tenant who will soon have legal rights to smoke marijuana legally in Canada.
Some landlords are even standing on the preachers chair and shouting out how smart they were to have put no smoking in their leases for years. Wow they are boastful, and full of themselves.
Oh the landlords are so proud!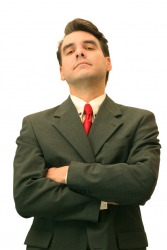 "Pay the rent you loser and remember there is no smoking! HAHAHAHAHAHA!"
And it not a male/female issue as they both are so proud of ripping you off and denying your rights!
"I am better than you, "loser renter". And you cannot touch marijuana at all because of my no smoking clause, low class dirty smelly druggie! I would never have sex with you!"
THEY ARE WRONG!
What they forgot was we can soon legally grow up to four marijuana plants in our rental properties even if you have "no smoking' in your lease!
On and after Oct. 17, it will no longer be a crime to grow or possess (or smoke) marijuana within the parameters set by the Cannabis Act.
For growing, the key restriction is that in any dwelling unit not more than four cannabis plants can be grown by the adults who reside there. That applies regardless of how many adults reside in the dwelling unit, whether there are children in the dwelling, and whether the dwelling is an owner-occupied home, a rental apartment or any other form of dwelling.
So yes, you can grow!
Even if your boastful landlord thinks their no smoking clause is a masterstroke of genius.
SMOKING DOESN'T MEAN NO GROWING.
So hook up the lights, and get growing!
Just be careful because the landlords might still try to play their typical games, but they WILL ALL FAIL IF YOU ARE AWARE OF THE GAMES THEY WILL PLAY.
HERE ARE THEIR ONLY TRICKS, SO BE READY! AND HERE'S HOW!
• raises the risk of fire (such as the use of grow lamps, which would overload the building's electrical circuits),

SO WHEN YOU ARE PREPARING YOUR LEGAL GARDEN MAKE SURE WATCH YOUTUBE VIDEOS ON HOW TO SET UP GROW LAMPS, ECT.

• damages the building (such as elevated levels of humidity),
NOT REALLY AS ISSUE BECAUSE LANDLORDS WILL BE HARD PRESSED TO PROVE IT. JUST MAKE SURE YOU DON'T BOTHER OTHER TENANTS
• interferes with other tenants (if other tenants complain about the smell of budding cannabis plants).
THIS IS THE ONLY REAL ISSUE. SO TALK TO OTHER TENANTS AND BECOME FRIENDS, PARTNERS, COMRADES.
MAKE SURE YOU LET OTHER TENANTS KNOW TENANTS ARE PAYING THE FATCATS MORTGAGES AND YOU CAN ALL GROW WEED AND EVEN SELL IT. IF YOU ARE GROWING AND SELLING SHARE A BIT OF THE CASH WITH OTHER TENANTS. WINE, PRE-PAID CARD TO STARBUCKS, ALL IS HELPFUL AS WE WIN TOGETHER! SHARE THE WEALTH AND BE TEAM AS ALL TENANTS ARE BEING RIPPED OFF BY SUPER HIGH RENTS AND LANDLORDS WHO ARE INSANE IN THEIR CRAZY DEMANDS.
If your landlord complains about their insurance rates or whatever, let them know that is the cost of doing business and you are supporting them by paying rent and the law is the law!
Up to four plants is the 'legal' way, but plants are 'hard to count' so it's easy to show 8-10 plants are 4.
LET'S EDUCATE TENANTS ON THE REAL RULES FOR ONTARIO RENTAL PROPERTIES.
(Member of the The Tenant Collective)